My Family
Pictures from May 2, 2001 I am working on updateing them hopefully soon - FYI, clicking on the photos will get you a birth chart. clicking on the birth chart will get you more stuff.
This is me. A lousy picture. My ex- husband has difficulty understanding instructions some times. I sead, "just click the button" . He adjusted the focus. That and the lighting sucks. Table Lamps do not make good substitutes for studio lights.
Born 01-26-1973
This picture, along with the others are several months out of date. I really need to update them. He has given up the pacifier seance this was taken.
Born 01-14-1998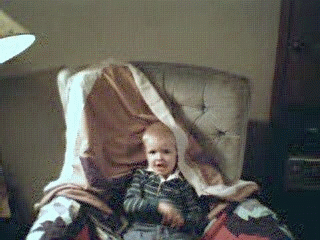 This is my babe girl who is standing and walking with help.
Born 03-03-2000
Kristal Rose Crabtree
Born 02-09-2001
She's the best babe I've had. I've heard of a thing called "colic" but have yet to experience it.
Looky, I got a nice new digital camera for my web zone.